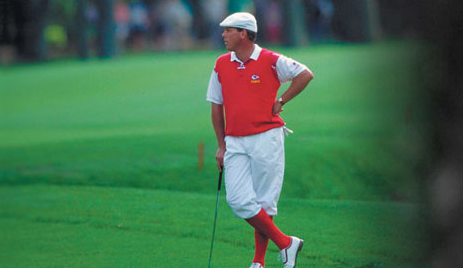 Payne Stewart Biography
William Payne Stewart was born Jan. 30, 1957 in Springfield, MO, and attended Southern Methodist University in Dallas, TX. Popular and outgoing, Stewart began his pro golf career on the Asian Tour before earning his PGA Tour card in 1981. He won 11 tour events, including the 1989 PGA Championship and the US Open in 1991 and 1999.
Stewart played for the U.S. team in five Ryder Cup events and two World Cups. He was widely known for his wardrobe of traditional golf knickers or plus fours and a tam o' shanter cap, making him an irresistible target for photographers around the world. Stewart was also known for his pure swing, sportsmanlike conduct and gentlemanly behavior.
His life was cut short barely a month after the U.S. team won the 1999 Ryder Cup in Brookline, MA, when the private jet, in which he and five others were flying, crashed in a field near Aberdeen, SD. Payne Stewart was 42 years old.
He was inducted into the World Golf Hall of Fame in 2001.
Payne Stewart Career Highlights
PGA TOUR wins:
1982 Magnolia Classic
1982 Miller High Life QCO
1983 Walt Disney World Classic
1987 Hertz Bay Hill Classic
1989 MCI Heritage Golf Classic
1989 PGA Championship
1990 MCI Heritage Golf Classic
1990 GTE Byron Nelson Golf Classic
1991 U.S. Open
1995 Shell Houston Open
1999 AT&T Pebble Beach National Pro Am
1999 U.S. Open
Other Victories:
1981 Indian Open
1981 Indonesian Open
1982 Tweed Heads Classic
1990 World Cup of Golf Individual Medalist
1991 Heineken Dutch Open
1991 Skins Game
1992 Hassan II Golf Trophy Champion
1992 Skins Game
1993 Hassan II Golf Trophy Champion
1993 Skins Game
U.S.A. National Teams:
1986 Nissan Cup Team
1987 Ryder Cup Team
1987 Kirin Cup Team
1987 World Cup Team
1989 Ryder Cup Team
1989 Four Tours World Championship Team
1990 World Cup Team
1990 Four Tours World Championship Team
1991 Ryder Cup Team
1993 Ryder Cup Team
1993 Dunhill Cup Team
1999 Ryder Cup Team
1999 Dunhill Cup Team
Other Teams:
1996 PGA TOUR Wendy's 3 tour Challenge Team
Other Accomplishments:
1988 Nabisco All-Around Stat. Leader
1989 Byron Nelson Award for lowest scoring avg. 69.485
27 second place finishes in PGA Tour events and majors
PGA TOUR Career Earnings:
$11,737,008
At the time of his death, Payne Stewart was 3rd on All-time career earnings list. In 2000, The PGA TOUR created the Payne Stewart Award given annually to a player sharing Payne's respect for the traditions of the game, his commitment to uphold the game's heritage of charitable support, and his professional and meticulous presentation of himself and the sport through his dress and conduct.